Fitting for outwards windows with Easy Clean

Allows casement windows to comply with Building Regulations Approved Document B for fire escape windows
16″ hinge opens to a full 90° for emergency exit to comply with BS 5588-1
Composite slider with stainless steel release lever mechanism allows cleaning access from the inside of the building to comply with BS 8213-1
Automatically resets to the fire escape mode when the window is closed
Self lubricating PTFE based coating on end cap provides smooth closing
Die cast support plate in bottom slider ensures consistent performance
Available in 12″ or 16″ for side hung windows
Drilling jigs for all sizes are available to order
Available in ferritic* and austenitic* stainless steel
10 or 12 Year Guarantee dependant on material selection (details available upon request)
Fitting for inwards windows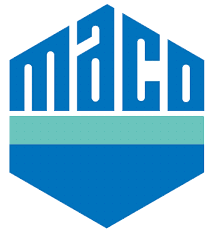 Ambitious looks.
As research results show, that cosumers pay attention more to the looks of windows. We offer new fittings patterns to your windows, along with many modern solutions.
Functionality for many years.
Quality and functionality are on the top of client's requirements list.
Energy savings and tightness.
Tightness of a window is the vital condition for energy savings. Intentional ability for ventilation will allow for saving of energy by the consumer.
Protection against unwelcome guests.
Anti-bulglary hardware are still unknown for most of consumers. Maco Multi-Matic offers your clients varied security means.
Fittings for fully Scandinavian windows

The IPA Fittings for the Rehau Nordic Plus Design PVC profile are developed in order to secure a smooth and flexible production of Scandinavian type windows.
A Scandinavian window is typically characterised by the following:
it opens outwards
on the outside frame and sash are flush/level with each other
All the Scandinavian window types have the advantage of not taking up space inside, when the windows are opened.
As a Scandinavian window is normally placed in the front of the wall opening, there will be plenty of space for curtains, flowers and other decorations. The reversible window types are easily cleaned from the inside. As these windows open outward, the wind pressure helps keeping the windows tight.
All window types shown above can be made with the Aluplast Nord-Line Profile and IPA Fittings.

Locking and resistance classes are not the only aspects of door furniture. The feeling of safety and security are equally important, whether in your own four walls, at work or in public buildings. This comprehensive security concept results in a particularly extensive range of products. KFV supplies modern locking systems of all kinds, from reliable mortise door locks to multi-point locks to the versatile panic door lock system. Our experience and innovation allows us to combine maximum product quality with utmost efficiency and economy. The best example: our multi-point lock according to grid dimensions in the intelligent modular system.
All benefits at a glance:
•    Smooth-running gear
•    Smooth latch lever operation
•    Adjustable DIN direction
•    Versions for Swiss round cylinder
•    Variety of backsets available
•    Various centre distances available
•    With optional soft-lock latch
•    Deadbolt of main lock case secured against sawing
The different versions:
AS 2300 / AS 2372 / AS 9300 series
(Multi-point lock with two pinbolts in the additional locks)
•    Impressive thermal insulation and tight sealing
•    Bolt lock with good tightening values and low tolerance sensitivity
AS 2500 / 9500 series
(Multipoint lock with 2 hookbolts in the additional locks)
•    Ideal for use in plastic profiles, for example
•    Hooks lock from the bottom up, preventing the locking bolt getting stuck or seizing in warped doors
AS 2600 / AS 2602 / AS 9600 series
(Multi-point lock with 2 pinbolts and 2 hookbolts in the additional lock cases)
•    Offers optimal security
•    Steel pinbolts provide a secure hold in the door frame
•    Additional security aspect: hookbolts make it more difficult to pry the door leaf and frame apart
Najważniejszej części okna angielskiego są nożyce, które decydują o maksymalnej dopuszczalnej masie skrzydła. W oknach typu Side Hung proponujemy rozwiązania zapewniające podwyższone bezpieczeństwo oraz wygodę użytkowania, funkcję Easy Clean (pozycja do mycia) oraz Restrictor (ogranicznik rozwarcia).  Jeżeli chodzi o okna Top Hung na pierwszą pozycję wysuwają się właśnie nożyce oferowane przez SECURITYSTYLE, które umożliwiają budowę skrzydła o masie do 50 kg.
Kolejnym nieodłącznym elementem okna otwieranego na zewnątrz są zasuwnice oraz zaczepy. Firma SECURITYSTYLE poszła w stronę rozwiązania innowacyjnego i oferuje zasuwnice z podnoszącym stopień bezpieczeństwa przeciwbieżnym ryglowaniem hakowym. Ponadto zasuwnica umożliwia również przy zastosowaniu zaczepów grzebieniowych funkcję Night Wind (mikrowentylacja).